Aeromotive 11803 - Aeromotive Diesel Lift Pump Kits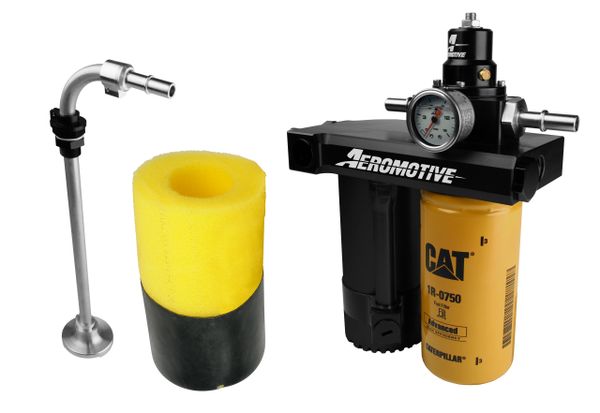 Aeromotive 11803 - Aeromotive Diesel Lift Pump Kits
Diesel Fuel Pump Style: Lift
Fuel Pump Type: Electric
Free Flow Rate: 130 gph/492 lph
Fuel Pressure (psi): 10 psi
Wiring Harness Included: Yes
Mounting Hardware Included: No
Quantity: Sold as a kit.
Notes: Retro fit kit designed for existing lift pump using 1/2 in. lines.
 Now you can get more performance from your diesel with Aeromotive diesel lift pump kits! They are built with features you'll appreciate, such as: precise pressure control via the Aeromotive convoluted diaphragm regulator; a fuel pressure gauge for accurate system pressure monitoring; a built-in check valve to keep the system primed; a submersible motor design with no dynamic shaft seals to erode; and a CAT 2-micron fuel filter. Duramax kits include a "fail safe" valve. In the event of failure or a no-run condition, the valve opens and allows fuel to bypass the pump; so the engine continues to run and you can get to your destination, eliminating tow bills.
Additional features of Aeromotive diesel lift pump kits include:
* Unique draw-through technology
* 3/4 in. in tank pickup tube
* 100 micron in-tank filter
* In-tank baffle included, eliminating 1/4 tank issue
* Quick-disconnect fittings for all fuel lines
* 1 in.-14 fuel filter thread allows the use of other common filter brands
* Stainless steel filter stud and filter dip tube (corrosion-resistant)
* Flow-through design; no shaft seal to fail or leak
* Wiring harness with Delphi sealed Weatherpack connectors (vehicle specific pumps only)
* Self-priming, no need to pre-fill the filter during install or filter swap
* Available with your choice of gph ratings
* OEM-style return; no need to modify the filler neck
Reviews