Aeromotive 18704 - Aeromotive Phantom Apex Fuel Pumps Fuel Pump, Apex, Electric, In-tank, 90 gph/340 lph, 90 psi, 4 ft. Jet Siphon Tube, E85, Gasoline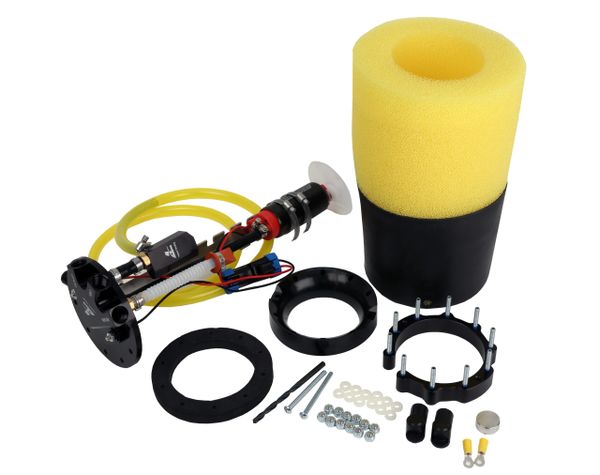 Aeromotive 18704 - Aeromotive Phantom Apex Fuel Pumps Fuel Pump, Apex, Electric, In-tank, 90 gph/340 lph, 90 psi, 4 ft. Jet Siphon Tube, E85, Gasoline
Sending Unit Included: No
Free Flow Rate: 90 gph/340 lph
Maximum Pressure (psi): 90 psi
Inlet Size: -6 AN O-ring
Inlet Quantity: One
Inlet Attachment: Female threads
Outlet Size: -6 AN O-ring
Outlet Quantity: One
Outlet Attachment: Female threads
Quantity: Sold individually.
Notes: Includes 4 ft. jet siphon tube.
 Aeromotive Phantom Apex in-tank fuel pumps open the door to OEM convenience—but with high-horsepower pump flow rates that only Aeromotive pumps can provide. These gasoline, E85 type fuel pumps utilize an advanced, patent-pending jet-siphon technology that provides a constant supply of cool fuel to the Phantom bladder, allowing the system to dominate in extreme applications. From extreme cornering loads to extreme off-angle vehicle environments, these pumps maintain fuel supply to the Phantom pump and bladder assembly—even when fuel tank levels are low and fuel is moving away from the pump location. Two pump configurations are available: the Phantom 340 (P/N 18704) and the Phantom Flex (P/N 18705); please specify your fuel pump model preference when placing your order.
Additional attributes of Aeromotive Phantom Apex fuel pumps:
* Both models include 4 ft. of gasoline and ethanol-rated suction line, with a controlled pickup that maintains 1/8 in. clearance to the tank bottom
* Pickup line can be secured to the intended pickup point within the tank via a 2-magnet system (compatible with any tank material: poly-plastic, aluminum, stainless steel, and mild steel)
* Jet-siphon P/N 187056 is also sold separately (for use with your existing Phantom fuel pump)
Reviews